May 18, 2017
3 min. reading
My first CESO Assignment
Les Gilbert
In March 2017, I completed my first CESO assignment with Tanga Fresh Ltd., a milk-processing company based in Tanga, Tanzania. Tanga is situated near the Kenyan border in the far north of Tanzania, and much of their milk products are delivered to the larger market in Dar es Salaam, 300km to the south. My assignment at Tanga Fresh was to pull together a selection of Key Performance Indicators (KPIs) to benchmark costs and measure productivity.
The business of milk processing in Tanga involves economic cooperation with small dairy producers in the rural sector of Tanzania, within 40km of the Tanga plant. Local producers are entwined within a cooperative, which negotiates raw milk and delivery costs with Tanga Fresh. This allows a stream of income for family farms who manage a small herd of cattle. Quite frequently, the women of the family are in charge of milking cows–I was pleased to see a number women producer's pictures featured on the walls of Tanga Fresh's cafeteria.
This assignment was my first visit to Africa, and my first exposure to working in a place where English is not spoken as a first language. One can get by in conversation with gestures and key words, but when it comes to an uninterrupted English "lecture" there can be problems. I was about halfway through my first CESO presentation to senior employees at Tanga Fresh when I realized feedback was not strong. I continued until someone suggested having a translator redo the presentation in Swahili. Then I saw and heard animated discussion. Someone said after my presentation that I did well given that English wasn't my main language! I speak English and only English, but with an Australian accent, and this proved to be difficult for my mainly Swahili-speaking audience to follow.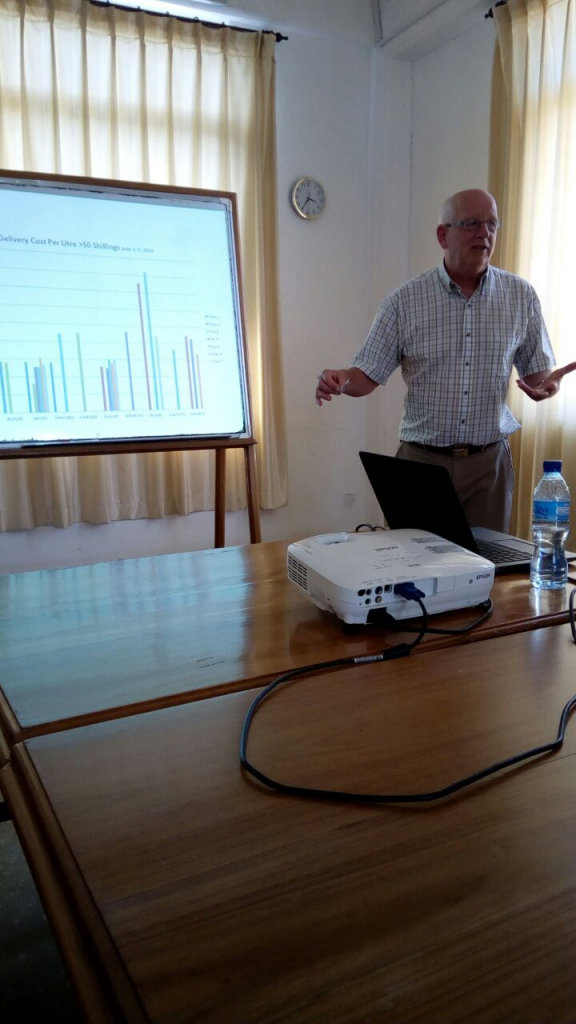 On one memorable occasion, I visited a collection center at Pangani, which is about an hour's drive away from the Tanga plant. It was there that I met with the local cooperative executive and got to talk about local issues, especially the impact of drought conditions on milk supply. Managing feed areas and feedstock is a strong part of supply consistency, and it was a unique experience to get the co-op's perspective.
Overall, I was impressed by the staff and processes at Tanga Fresh. The assignment was made easier by the very cooperative staff, who found ways to gather data for me while still addressing the routine demands of the day. I left Tanga Fresh with a suite of KPIs that, if continued, will enhance cost control, efficiency and profitability for the organization, which in turn will benefit the small milk suppliers in the Tanga area.
Donate Today
Your donation helps connect businesses, governments and community organizations with the skills and support to achieve their goals and contribute to inclusive growth. When you give to Catalyste+, you empower women and drive progress in harmony with nature. You're helping people get what they need to improve their lives and build strong communities.