November 30, 2022
2 min. reading
CESO's Indigenous and Northern Services Team Attend NACCA Conference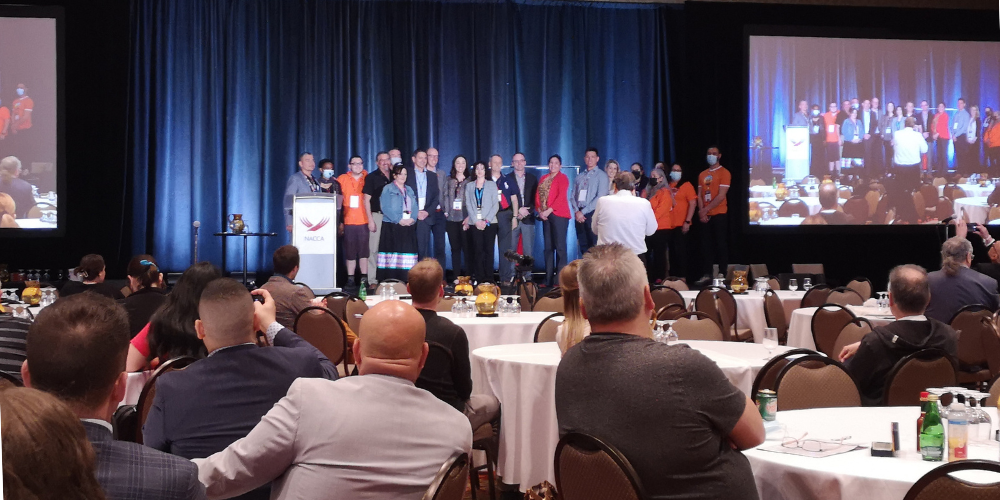 Five members of CESO's Indigenous and Northern Services team attended the Indigenous Prosperity Forum hosted by the National Aboriginal Capital Corporations Association (NACCA) in Gatineau, Quebec from May 4 to May 5, 2022.
NACCA is a network of over 50 Aboriginal Financial Institutions (AFIs). By building the capacity of AFIs in its network, NACCA is creating opportunities for Indigenous entrepreneurs, stimulating economic growth and increasing prosperity for Indigenous Peoples in Canada.
The theme of the conference was "reConnecting – Investing in the Return to Indigenous Prosperity," and included discussions about the increased barriers Indigenous entrepreneurs continue to face and how using innovative solutions can overcome these barriers and drive economic success.
CESO has been collaborating with NACCA on capacity-building initiatives and supporting programs that increase access to capital and support Indigenous women's entrepreneurship.
"Our team learned more about the AFI network and the Indigenous Growth Fund, which is Canada's newest and largest Indigenous social impact fund," says Rachel Davis, CESO's Manager of Indigenous and Northern Services. "We were inspired by the panelists, such as the Indigenous women in business."
The chance to listen, learn, and connect with partners and colleagues in-person was all part of the inspiring experience that will further strengthen CESO's collaboration and partnerships across Indigenous communities.
Donate Today
Your donation helps connect businesses, governments and community organizations with the skills and support to achieve their goals and contribute to inclusive growth. When you give to Catalyste+, you empower women and drive progress in harmony with nature. You're helping people get what they need to improve their lives and build strong communities.